Long Beach - Summer Camp Youth Volleyball
Join the fastest-growing youth volleyball league
in Long Beach - Summer Camp!
Girls & Boys 8-week Volleyball League
When:

Mon, July 24, 2017 - Wed, July 26, 2017
Where:

Long Beach - Summer Camp at Whaley Park
Days:

Monday, Tuesday, Wednesday 9:00 AM - 12:00 PM
Price:

Early Registration:
Regular Registration: $100 until July 21st
Late Registration:
Ages 7-15 (Divisions will be determined by age and experience)
3-day instructional volleyball camps run Monday through Wednesday, for 3 hours each day.
Each camp focuses on the specific skills needed to improve a player's development at all levels. Players are placed in groups according to age and skill level, and each group is taught by experienced instructors.
Multiple Child Discount: 2nd child or more, deduct $10 for 2nd, 3rd, etc. Price includes uniform jersey.
Want to play?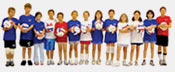 You're not alone! Over 155,000
kids have learned to play
volleyball with us!
The USYVL has youth leagues
all over the country.
Find a league nearby.

Enter your zip code to find
a league nearby!
Start a new league!

We can help you start a
volleyball league in your area!
» Start a League